We provide a curriculum specializing in the creative arts, customized to fit your child's needs. Art, music, dance, and dramatic play are an important part of our daily activities. Outdoor play is emphasized, with frequent walks to nearby city parks.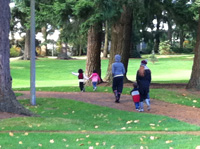 Our program includes individual and group activities. We work closely with parents to create learning opportunities that are specific to each child.
Very young children are given the individual attention they need to flourish as they grow and develop physical, emotional, cognitive, and social skills. We specialize in meeting the needs of infants and toddlers, preparing them for a successful transition to pre-K programs.

We understand that children develop at their own pace. Age-appropriate developmental guidelines are the basis for our curriculum, but we will modify the plan to meet the unique needs of your child. We feel that providing child care is a collaborative process, and we welcome your involvement in our program.


Your child's health is important to us, and we carefully select the ingredients for our meals and snacks. We feature organic food, and plenty of fresh fruits and vegetables. We offer a vegetarian meal option and can accommodate special dietary needs.
We avoid high-fructose corn syrup as an ingredient in processed food.